Page last updated on: Friday, 17 December, 2021.

A message from the President of

Anwoth & Girthon Curling Club

email :

stephengroome@btinternet.com

President

Steve Groome

Honeysuckle Cottage

Gatehouse of Fleet

DG7 2BS
---
Gatehouse of Fleet has for many years had curling as one of it's community pastimes/sports.
Anwoth Curling Club dates back to 1830 & Girthon 1846 when the 2 church parishes formed 2 curling clubs for the Gatehouse Area. In those days curling was an outside sport where the clubs waited for the local small lochs to freeze over in order to play.
The current club was made up of the two original clubs combining resources in the early 1990s. Anwoth & Girthon Curling Club as it is today still plays club matches for trophies that were presented to the club from the late 1800s. The club also plays against other parish clubs in the Stewartry such as Borgue, Twynholm, Tongland and Kirkmabreck in the historic Cally Cup. This competition involves a whole day's curling with 4 matches per club.
Currently the club plays in 2 leagues, one based at Dumfries Ice Bowl and the other Stranraer North West Castle Hotel curling rink. Club matches are currently played at Stranraer. ..........
We welcome new members to the game and should you be interested please contact Nick Morris or Douglas McDavid at the following email addresses. douglasmcdavid1960@icloud.com, nickdobcros@live.co.uk
November 2021
---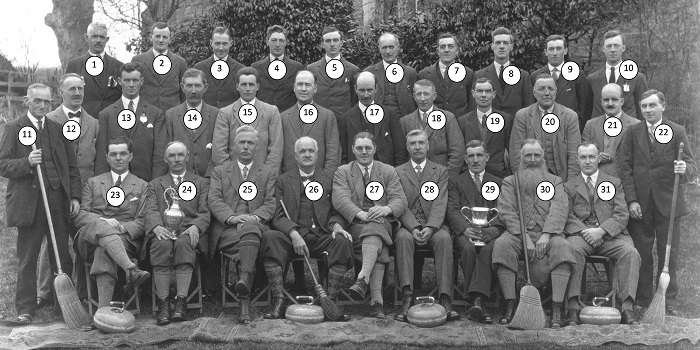 1. Fred Heron (dustman), 2. George Fergusson (builder), 3. Jim Robertson (Glen), 4. Alex. Johnstone (Blackloch), 5. Tom Gardiner (Upper Rusko), 6. Andrew Robertson (Glen), 7. Tom McCormack (Killern), 8. Clem Grierson (Auchenlarie), 9. Sam Credie (Kirkbride), 10. James Johnstone (Blackloch), 11. John McCormack (Killern), 12. James Johnstone (bootmaker), 13. J J Armstrong (Pulcree), 14. Tom Phillips, 15. Jim L Sproat (Laggan), 16. N S Munro (banker), 17. Peter Tait (molecatcher), 18. Peter Marshall (gamekeeper), 19. Edwin Gaukroger (Skyreburn), 20. Thomas Mackenzie (factor Cally), 21. A R Sturrock (artist), 22. William Bryan (builder- pondmaster), 23. Tom Hamilton (Cally Mains & Whiteside), 24. W R Rennie (Kings Laggan) , 25. Joe Grierson, 26. John Pritchard (schoolteacher), 27. J Faed McD Sproat (Boreland - president), 28. John Hannay (shepherd), 29. John Little (postman), 30. George Orr (gamekeeper), 31. David McWhirter (Goatend).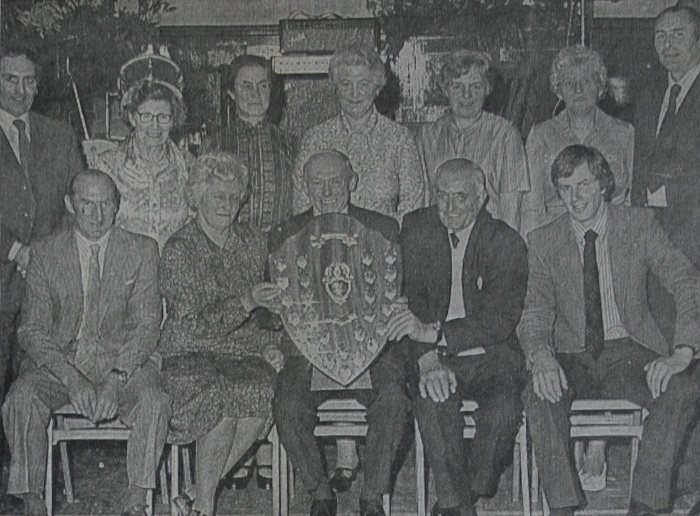 In 1980-81 the Rogerson Shield was competed for by Girthon, Twynholm, Borgue & Tongland Curling Clubs.
The victorious Girthon team were :
Back Row : Irvine Hannah, Sadie Veitch, Mary-Lou Finlay, Anne Telfer, ? ?, ? ?, Billy Johnstone
Seated : Bobby Telfer, Jean Austin, Jack Veitch, Ian Drummond, Robin Austin.
Unidentified curlers : Betty Gilmour, Christina Hannah,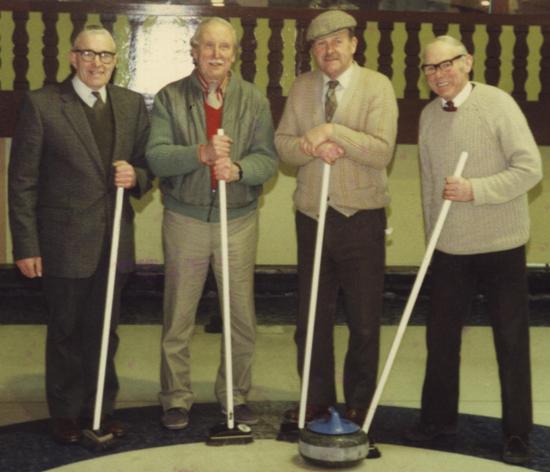 Bobby Carson, D Wilson, James Finlay, Jack Veitch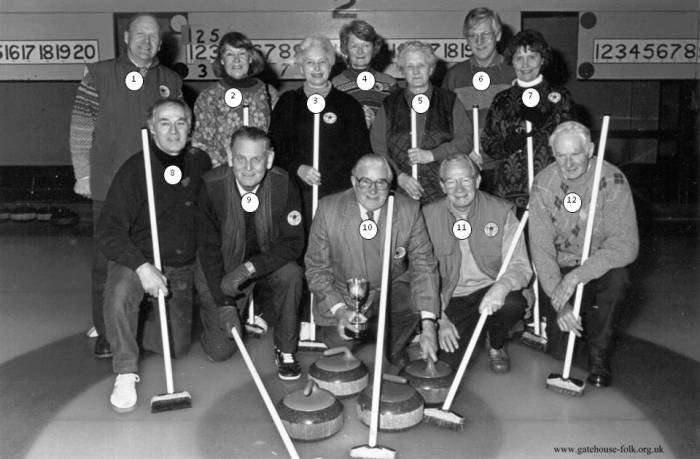 Anwoth & Girthon Curlers
1. Nigel Johnston-Stewart, 2. Marcia Sheard, 3. Annie-Margaret Johnstone, 4. Jill Russell, 5. Phemie McCarlie, 6. John Bradshaw, 7. Margaret Bradshaw, 8. Don Sheard, 9. John Russell, 10. Bobby Carson, 11. Bob Gibson, 12. Alastair Austin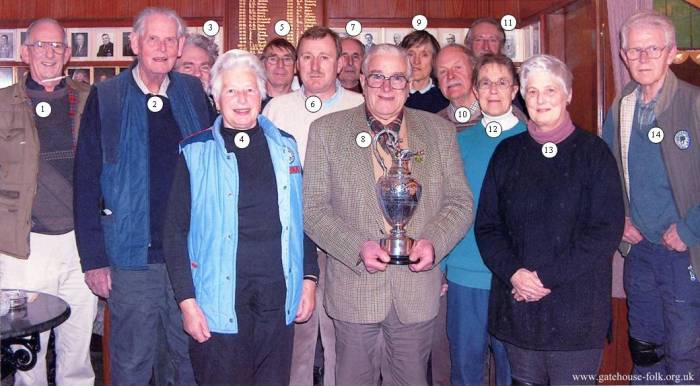 1. John Riddick, 2. John Russell, 3. David Steel, 4. Annie-Margaret Johnstone, 5. David Petter, 6. Steve Groome, 7. Billy Johnstone, 8. Bobby Carson, 9. Catherine Kaye, 10. James Finlay, 11. David Hawker, 12. Mary-Lou Finlay, 13. Sheila Bain,
14. Bill Bain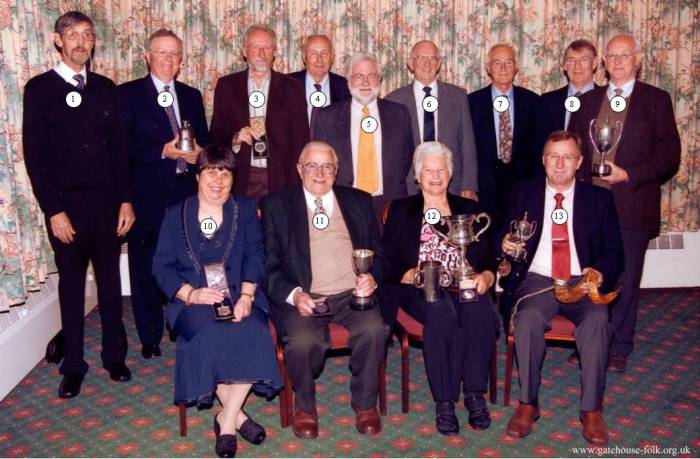 1. Keith Kemp, 2. ?, 3. David Hawker, 4. Billy Johnstone, 5. David Steel, 6. John Riddick, 7. Keith Maughan, 8. David Petter,
9. David Hannay, 10. Carol Dunsterville, 11. Bobby Carson, 12. Annie-Margaret Johnstone, 13. Steve Groome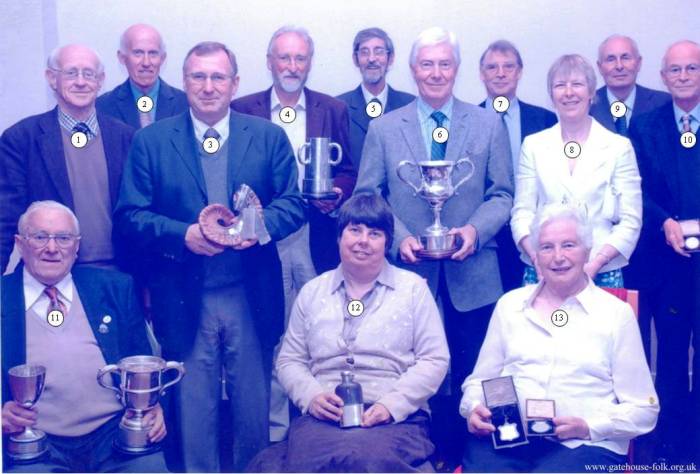 1. David Hannay, 2. Robin Colquhoun, 3. Steve Groome, 4. David Hawker, 5. Keith Kemp, 6. Derek McCallum, 7. David Petter, 8. Lorna Colquhoun, 9. Billy Johnstone, 10. Keith Maughan, 11. Bobby Carson, 12. Carol Dunsterville, 13. Annie-Margaret Johnstone.