When the Gatehouse Community Centre was refurbished in 2010, one of the old school classrooms was earmarked for use as a snooker room.

Willie McKie was instrumental in starting the Snooker Club and was its chairman from 2010 until his death in April 2018. Here is our tribute to Willie

Potential new members

can download and complete a Membership Application Form
and /or email Graham Wright to discuss things.
---

2019 Snooker Handicap Competition
Scores last updated on: Friday, 18 October, 2019.
Previous Year's Competitions
2019 Club Championship 2019 Billiards Competition
2018 Club Championship 2018 Billiards Competition 2018 Snooker Handicap
2017 Club Championship 2017 Billiards : League Knockout 2017 Handicap Snooker
2016 Club Championship 2016 Billiards Competition 2016 Handicap League
2015 Club Championship 2015 Handicap League
2014 Club Championship 2014 Handicap League
When the snooker club first started we experimented with an annual ladder competition. Then we introduced handicaps that have been refined each year. In the snooker handicap competitions, the player with the highest handicap starts with the difference in handicaps between the two players, whilst his opponent starts from zero. In the billiards competitions (which are only played on a handicap basis) we have always played such that the first to 125 points wins. Since 2017, players in the billiards games have each started from their handicap level (to avoid games lasting too long !).
---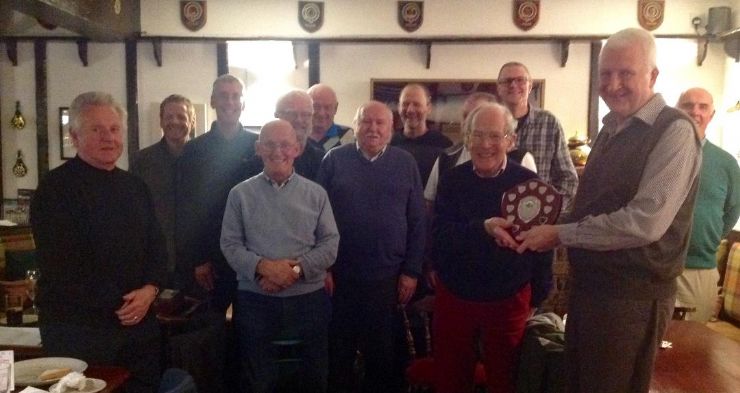 The 2018 match between Gatehouse and Kirkcudbright resulted in a win for Kirkcudbright by 12 points to 8. This was the 4th victory for Kirkcudbright in the 5 years the competition has taken place. On behalf of the Kirkcudbright team, Paul Tebay receives the Selkirk Shield from John Morton of Gatehouse.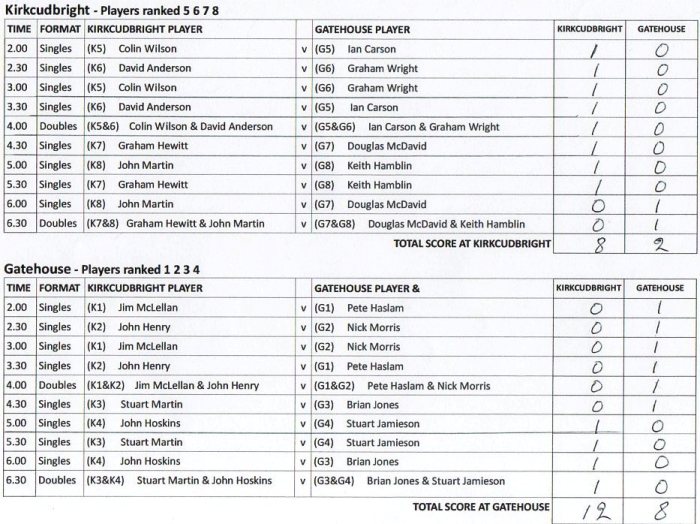 The recorded scores should read : Kirkcudbright won 8 - 2 at Kirkcudbright, Gatehouse won 6 - 4 at Gatehouse, with the overall score being 12 - 8 to Kirkcudbright.
Our next match against Kirkcudbright is on Sunday 1st December 2019
---

Our next AGM is on Tuesday 21st January 2020 at 7:30pm
| | | |
| --- | --- | --- |
| Date | AGM mins | Competitions |
---