Page last updated on: Monday, 12 March, 2018.
General Photos 1990s
Early 1990s
For a long time Galloway has used "The Galloway Beltie" as its symbol. When Dumfries and Galloway was created as a Scottish region, there were plans to use the Barnacled Goose as the symbol for the larger area.

People of Gatehouse were outraged and feelings were aired on a "That's Life" show on TV. The smart young man in the kilt outfit is Kevin Devine, of the That's Life team. He presented That's Life between 1991 and 1995, so that dates these pictures as early 1990s.

Photos by Mike Bannister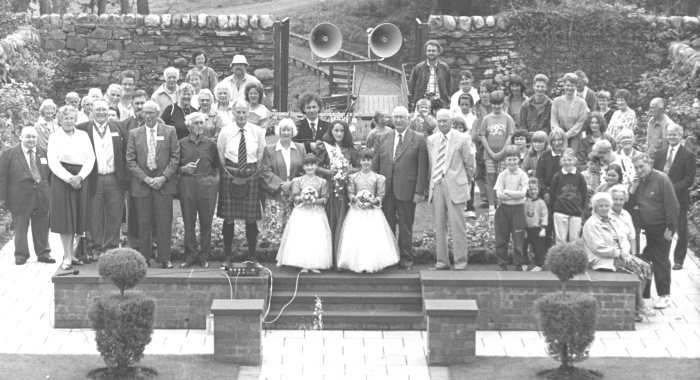 Overall Photograph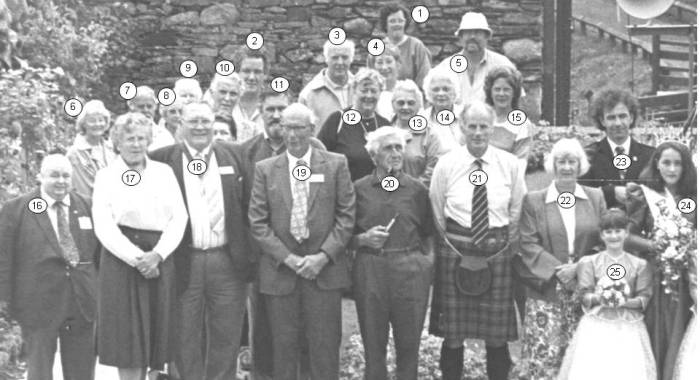 Left side with people numbered.
1. Sheila Wallace (nee Broadfoot), 3 & 4. Mr & Mrs Hamilton, 5. Roger Hampshire, 6. Dorothy Davidson, 8. Mrs Buchanan (?), 10. John Chambers (?), 11. Tony Wilkinson (?), 16. George McCulloch, 17. Annie Mackay, 18. Hamish Holmes, 19. Jock Davidson, 21. Nigel Hesketh, 22 Betty Keble, 23. Donald Cowie, 24. Veronica Kelly (Miss Gatehouse).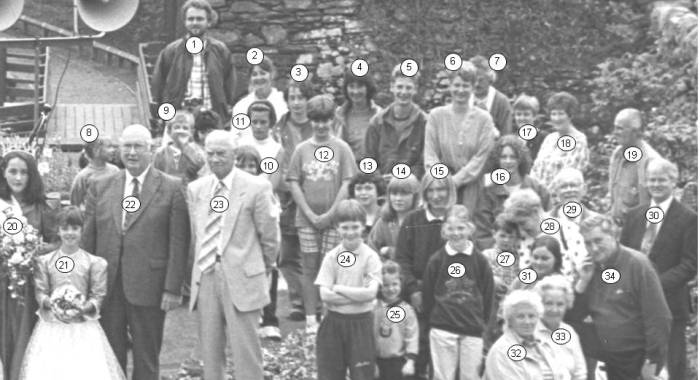 Right side with people numbered.
7. Howard Forsyth (?), 15. Kim Telfer (?), 17. Jenny Raphael, 19. Freddie Kelly, 20. Veronica Kelly, 22. Willie Mackay, 23. Alex McLaren, 29. Jim Grieve, 30. Robin Raphael, 32. Phemie McCarlie, 33. Marie Fitzpatrick, 34. John Wilson (?)
---


Bicentenary lunch for Gatehouse residents whose ancestors were amongst the first to occupy Gatehouse.

Back Row L-R : Eddie Bryan, Bobby Campbell, Helen Campbell, Kathie Patterson, Jack Patterson.
Front : Willie Bryan.
---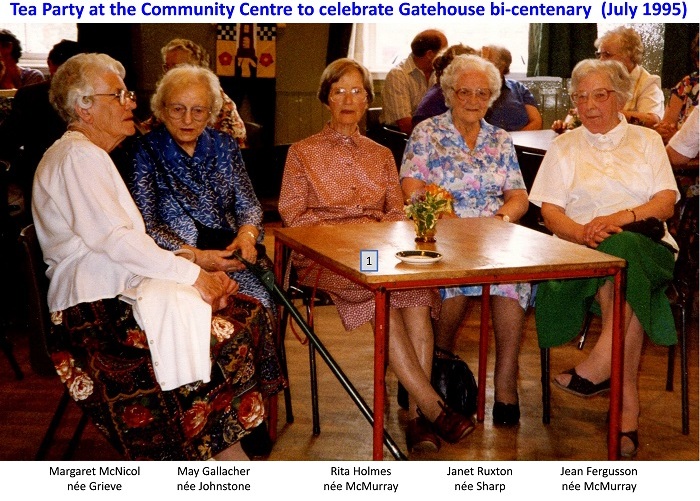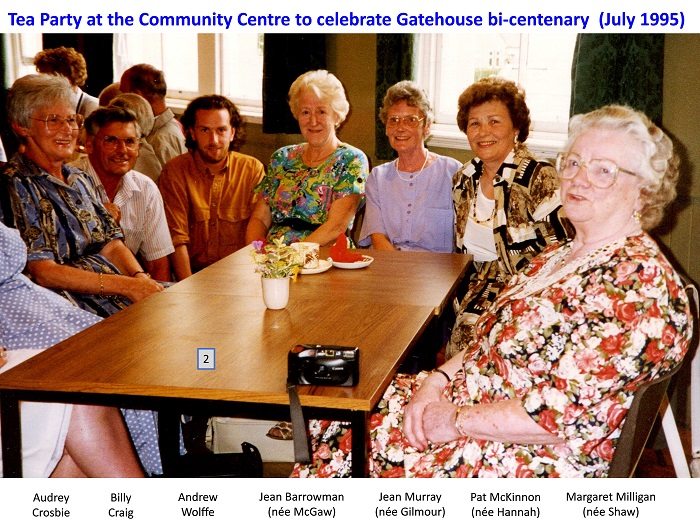 ---

70th Anniversary of WRI Gatehouse Branch. March 1995. Past Presidents.
Back Row : Phemie McCarlie, Isabel McLeod, Katherine Proudlock, Jessie Fergusson, Mairi Fitzpatrick, Annie-Margaret Johnstone.
Seated : Mrs McCoskrie, Margaret McWilliam, May Gallacher.
---