Page last updated on: Saturday, 9 January, 2021.

The Faed family are the only artists we know of who were raised in Gatehouse and trained as arists before leaving to pursue their careers elsewhere. Gatehouse is a beautiful small town and several artists made it their home in later years.
The paragraphs below tell the story of the many artists who have either lived in Gatehouse, stayed for a time in the area or made painting visits to the town and surrounding area. While we have listed a wide range of artists and works, the list is probably not comprehensive and we would very much like to hear of other artists who have painted locally.
The text tells a short, and broadly chronological, story of these artists as written by David Steel
The boxes contain names of artists that we know of who have a Gatehouse connection. The intention is that details will be added about each artist which we will put into a .pdf file to be downloaded by clicking on the relevant box.
In the first half of the 19th century, artists were attracted to Galloway to paint scenes from the life and work of Robert Burns and Walter Scott. D O Hill, for instance, drew a view of Gatehouse for his book The Land of Burns published in 1840 and W C Stanfield depicted Dirk Hatteraick's cave for Walter Scott's Guy Mannering. Other artists to visit Gatehouse included the Irish born artist R G Kelly whose fine View over Gatehouse of 1851 can be seen in the Kirkcudbright Galleries and W L Leitch who painted views looking down the Fleet valley from near Rusko Castle. However, it was the Faed family of artists who put Gatehouse on the map.

If it had not been for the Faed family, there might well not have been an artists' colony in Kirkcudbright from the last decades of the 19th century. The success of the Faeds showed that it was possible for young people from Galloway to pursue a successful artistic career. In all, there were six children born to James Faed and his wife Mary McGeoch, five of whom had success as artists. The most famous of the family was Thomas Faed who became a member of the Royal Academy in London. His celebrated work The Last of the Clan can be seen in the Kelvingrove Gallery in Glasgow. Thomas' brother James Faed had two sons James jnr and William Cotton, who also painted in the Gatehouse area, but it was the oldest, John Faed, who is most associated with the town. He used Gatehouse people as his models in many works, and, although he left Gatehouse in 1840 to pursue his artistic career in Edinburgh, and later London, in 1868 he built a house, Ardmore, looking over Gatehouse, and settled here permanently in 1880.

John Faed's best known model was Sandy Inglis, who lived in Neilson Square and featured in many of his works such as The Battle of Blenheim ,which describes a verse from this anti-war poem written by Robert Southey. In 1884 John spent much of the year painting his View over Gatehouse from his home at Ardmore. This painting was presented to the people of the town and displayed in the Town Hall, which was opened by his brother Thomas in 1885.

A pupil of John Faed was the artist Patti Jack, daughter of the Girthon Minister Hugh Morton Jack. Although she moved to the east coast following her father's death, many of her exhibited works featured her native Galloway. Patti Jack was a pioneer of education at University College, Dundee where she was the first female member of staff. In 1898 she emigrated to Canada where she continued to teach and paint.

In the early 1880s John Faed spent summer holidays at Carrick Cottage. The Cally factor Henry Moule had earlier also spent time there. Moule was a keen amateur colourist and a collection of over 200 of his local scenes are kept by the Dorset County Museum.

Writing from Carrick, John Faed encouraged the young E A Hornel to paint what he described as this 'bonnie bit of Borgue shore' and over the years Hornel became known for his paintings of Brighouse Bay in particular. Hornel, whose grandmother, Margaret came from Woodfoot, Gatehouse, and other local artists such as W S MacGeorge, were very much encouraged by John Faed.

Hornel invited his fellow Glasgow Boys such as James Guthrie and George Henry to visit Kirkcudbright and the town soon became an artists' colony. Two Glasgow Boys who later painted in Gatehouse were E A Walton and Robert Macaulay Stevenson. The long-lived Macaulay Stevenson was a frequent visitor to the area. He painted a fine picture of Castramont Bluebell Wood. E A Walton stayed in Ann Street, Gatehouse in the summer of 1921 with his daughter Cecile and her husband Eric Robertson. It is said that Walton's painting of the Clock Tower, viewed from Garries Park, was on his easel at the time of his death in 1922.

An Edinburgh painter who spent time in Gatehouse at the end of the 19th century was Charles Hodge Mackie. Mackie had worked in France and had been introduced to Gauguin and other leading artists of the day. Staying at Castle Cottage in 1893, his murals for Patrick Geddes at Ramsay Gardens, Edinburgh, had a strong influence. Mackie also painted local scenes such as the Pool of Ness on the River Fleet.

The Stewarty Museum in Kirkcudbright has two sketch books as well as loose leaf sketches by the artist Walter Grieve including sketches of the Gatehouse area. These drawings were done about 1900. Another celebrated artist who visited the Gatehouse area was the Scottish colourist F C B Cadell.

Art, fishing and golf attracted artists to Gatehouse in the 1920s, notably A R Sturrock, who lived with his wife Mary at Victoria Cottage in Hannay Street between 1926 and 1934. One of Alick's favourite painting places was at Little Boreland. Alick Sturrock was captain of the Gatehouse Golf Club at the time that the crime writer Dorothy L Sayers and her husband Mac Fleming were staying at the Anwoth Hotel in Gatehouse where she wrote the murder mystery Five Red Herrings. The book has many descriptions of local landscapes and in one scene Lord Peter Wimsey finds the character Strachan perched on a rock at Carrick painting the Isles of Fleet. One of the artists who came to Gatehouse at this time and stayed at the Anwoth Hotel was Hamish Paterson, son of the Glasgow Boy James Paterson. Hamish is said to have driven his car over to Ardwall Island where he stayed in the cottage.

At that time the Fleet was celebrated for its sea trout. Artists and fishermen such as Alick Sturrock and the Kirkcudbright artist Charles Oppenheimer painted the Fleet as did the sporting artist William Barrington-Browne.
Just as in John Faed's time, Carrick was a popular spot for artists, and in the 1930s with the building of huts, artists such as W Miles Johnston and his wife Dorothy Nesbitt and T G McGill Duncan built huts and painted there and elsewhere in the local area. Another painter of Carrick and the surrounding area, who had a hut there, was the Kirkcudbright artist David Sassoon.
The architect and artist GPH Watson owned the Old School House at Anwoth between 1945 and 1956 and spent time there with his wife, the potter Elizabeth Amour, founder of the Bough Pottery in Edinburgh. The Watsons also invited other artist friends to Anwoth including Alick and Mary Sturrock after they had left Gatehouse and the artist William Crawford. Others to paint in the Gatehouse area included William Mervyn Glass and Adam Bruce Thomson. Alexander Mason Trotter spent time at Ravenshall. His painting of dykers at Ravenshall was used by Colonel F Rainsford Hannay in his pioneering work Dry Stone Walling.
After the Crawfords, the Old School House at Anwoth was bought by the artist Vivien Chapman. Four panels depicting scenes from the Passion of Christ can be seen in St Andrew and St Cuthbert's Catholic Church, Kirkcudbright. Also about this time, Kate Nicoll came to Gatehouse, living at Low Barlay, Neilson Square and latterly in Planetree. Two other artists who painted in the Gatehouse area were Anna Hotchkis and Lena McGlashan, who was the granddaughter of the Rev McGlashan.
In more recent years artists such as ;Alastair Dallas and Jim Sturgeon painted in the Gatehouse area and John Budgett lived in Fleet Street Gatehouse today remains the home of a number of artists.
A good overview of the above works can be found in Haig Gordon's publication "Tales of the Kirkcudbright Artists".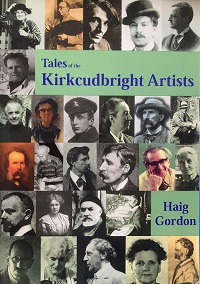 David Steel
October 2020